UV-2200 Double Beam Uvvis Spectrophotometer
Product Detail
Product Tags
Research grade duble beam, duble mnchrmatr UV/VIS spectrphtmeter.
Fully PC cntrl measurement with pwerful sftware functin and easy peratin.
Super lw stray light, direct determinatin f high cncentratin sample, withut the need f dilutin.
Six-step variable spectral bandwidth: 0.1nm, 0.2nm, 0.5nm, 1.0nm, 2.0nm,
Spectrum scan can be made at any wavelength range in 190~1100nm, with the minimum sampling interval f 0.02nm.
Rich data prcessing functins, such as spectrum cnversin, superpsitin, derivatin,
peak-picking, curve smthing etc.
Multi-wavelength determinatin in phtmetric mde. User defined arithmetic t the measured data can be made and stred.
Varius methds fr calibratin curve establishment in quantitative measurement mde,
such as single-wavelength methd, duble-wavelength methd, triple-wavelength methd, user-defined methds etc. User-defined methd can be saved fr the later use.
Flexible parameter setting in kinetics measurement mde t perfrm time scan at a fixed wavelength, with the same data prcessing functins f spectrum scan.
Built-in DNA/Prtein mdule fr direct DNA/Prtein cncentratin measurement.
Wide sample cmpartment, t accmmdate cell size frm 5mm t 100 mm.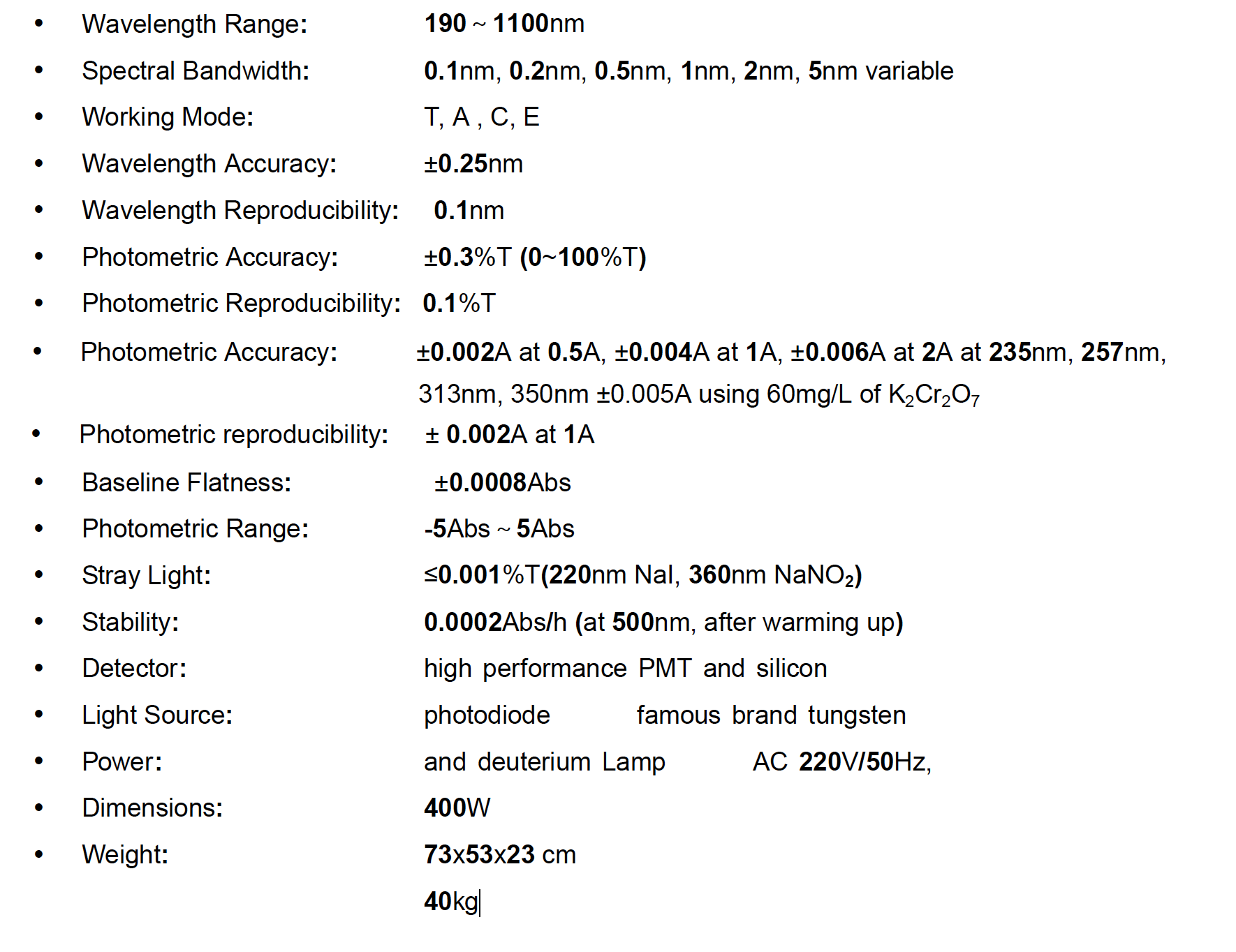 ---
---